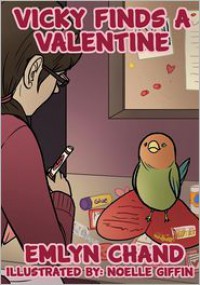 Another cute story by Emlyn Chand. This time the book is about a Love bird named Vicky. She is a pet bird who absolutely loves her life. She actually feels sorry for the birds she sees outside her window because they don't have the loving family that she has in her home. She loves everything about her day, especially when her best friend Marie comes home from school. Marie always tells Vicky about her day and treats her like she's a well loved pet.
Well one day Marie comes home from school and tells Vicky about Valentine's Day while making valentines for her entire class. You remember those days right? Marie tells her how on Valentine's Day you give valentines to everyone you care about and you find a special person to be your valentine. The next day, Vicky goes in search of her special valentine. She tries talking to a doll (who obviously doesn't respond). She talks to the people on the t.v. (who obviously rudely ignore her). Finally she thinks that she has found her valentine in the house cat, but of course the cat nearly eats Vicky while she isn't looking. Marie saves her just in time. Disappointed, but glad to see Marie, Vicky listens like a good friend to Marie as she talks about her day. Marie then gives Vicky the one thing she was searching for, a special valentine because they are each other's special valentine friends. It's a cute children's story with wonderful artwork. I am a big fan of all the Bird Brain Books. I think these are great stories for children of all ages.
Read more reviews at Identity Discovery Blog.